Conference Name: International Conference on Science & Technology, 25-26 June 2023, Prague
Registrations for Online LIVE Conference on Zoom Meeting Also Open
Conference Dates: 25-26 June 2023
Conference Application Form: Click Here
Conference Venue: Czech Technical University in Prague (České vysoké učení technické v Praze), Masarykova Kolej, Prague, Czech Republic
Deadline for Abstract/Paper Submissions: 15 February 2023
Conference Format: Online
Contact E-Mail ID: convener@eurasiaresearch.info
Organising Scholarly Association: Scientific & Technical Research Association (STRA)
STRA List of Members: Click Here
STRA President: Dr Liudmyla Gryzun, Full Professor, Information Systems Department, Simon Kuznets Kharkiv National University of Economics, Kharkiv, Ukraine
Conference Language: English
Conference Themes: Science & Technology
STRA Previous Conferences: Click Here
(Vernacular Session, e.g., European Languages, Arabic, Bahasa, Thai, Chinese, Turkish, Japanese, Russian, will be organised for a minimum of 5 or more participants of a particular language)
(Only English language, full-length, original papers will be considered for publication in conference journals)

Online International Conference, 28th August 2021
Theme: Science & Technology
In-person conference held in April 2022 at London, UK
Venue: The Tomlinson Centre, Queensbridge Road, London
KEYNOTE SPEAKER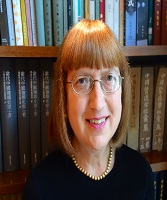 Prof. Nancy S. Steinhardt
Professor of East Asian Art and Curator of Chinese Art at the University of Pennsylvania, Pennsylvania
Topic: The Borders of Chinese Architecture
Nancy S. Steinhardt is Professor of East Asian Art and Curator of Chinese Art at the University of Pennsylvania where she has taught since 1982.  She received her PhD at Harvard in 1981 and was a Junior Fellow at Harvard from 1978-81. Steinhardt taught at Bryn Mawr from 1981-1982. She has broad research interests in the art and architecture of China and China's border regions, particularly problems that result from the interaction between Chinese art and that of peoples to the North, Northeast, and Northwest.
Steinhardt is author or co-editor of Chinese Traditional Architecture (1984), Chinese Imperial City Planning (1990), Liao Architecture (1997), Chinese Architecture (2003), Reader in Traditional Chinese Culture (2005), Chinese Architecture and the Beaux-Arts (2011), Chinese Architecture in an Age of Turmoil, 200-600 (2014), The Chinese Mosque (2015), Chinese Architecture: Twelve Lectures (2017), China: an Architectural History (2019),  The Borders of Chinese Architecture (2022), and "Yuan: Chinese Architecture, Mongol Patrons" (under contract) and more than 100 articles. She is a recipient of grants from the Guggenheim Foundation, Institute for Advanced Study, National Endowment for the Humanities, American Council of Learned Societies, Getty Foundation, Chiang Ching-Kuo Foundation, Social Science Research Council, American Philosophical Society, Graham Foundation for Advanced Study in the Fine Arts, Van Berchem Foundation, and Metropolitan Center for Far Eastern Art.  She has given more than 400 public lectures or conference talks. Steinhardt is involved in international collaborations in China, Korea, Japan, Mongolia, and Russia.  She has been an advisor, guest curator, or author for exhibitions at China Institute, Asia Society, the Metropolitan Museum, Japan Society, Chicago Art Institute, Smart Museum, and the Penn Museum. She is on the Board of the Society of Architectural Historians.
Steinhardt won both the Distinguished Teaching of Art History Award from the College Art Association and the Provost's Award for Distinguished Ph. D Teaching and Mentoring from Penn in 2019.  In 2021 she was the Alice David Hitchcock Book Award from the Society of Architectural Historians for Chinese Architecture: A History.
Weblinks:
My website is:  https://ealc.sas.upenn.edu/people/prof-nancy-s-steinhardt
Media Partner
EIN Presswire has a distribution "foot-print" that includes millions of users of our EIN Newsdesk media monitoring services. We also maintain one of the world's leading media directories providing us with up-to-date contacts for media in every country and U.S. state. Further distribution is achieved via RSS, email, partner websites, and social media. We are both a destination (EIN Newsdesk) and a distributor (EIN Presswire) for news. In one place you can distribute your news to the targeted audiences you select and monitor news on that topic published by thousands of worldwide sources. For more information or to try us FREE, please visit www.einpresswire.com/free